Our Estates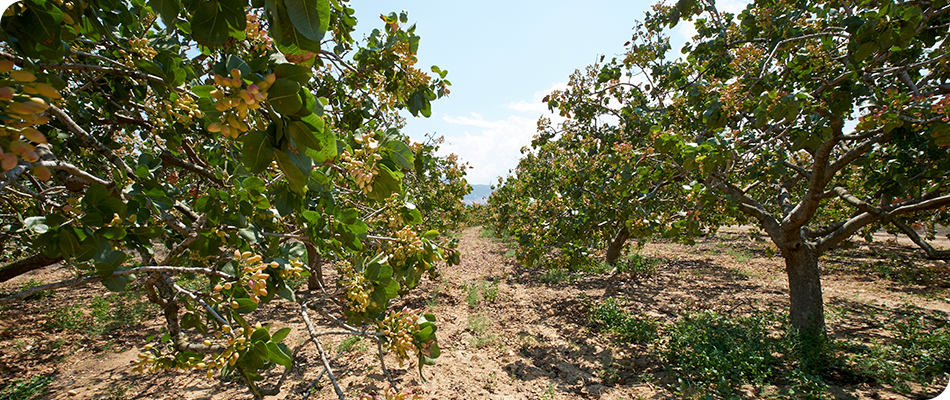 We continue our family tradition of nuts cultivation. The family tradition in pistachio cultivation runs back to our grandfather who used to own and cultivate the estates in the area of Markopoulo Mesogaias for over 60 years.
In the area of Markopoulo there are approximately 50 active producers and produce over 120 tons of pistachio per year. We grow over 150 trees. Our estates are irrigated and cover an area of 10 acres. Today we collaborate with producers in the region and all over Greece. We take advantage of a total of 1200 trees in an overall area of 45 acres.
We only choose the highest quality pistachios, with clear and open shell, vibrant green kernels and sweet taste. Greece is among the 10 countries with the largest production of pistachio globally. Hot and dry summers offer an ideal climate for the growth of nuts, giving our products high quality and unique flavor.
Pistachios are xenophyte plants suitable for areas with severe drought and soil air; growing best in areas with cold winters and long, hot and dry summers. The first ripe fruits appear in early August and are harvested from late August to mid-September.
All pistachios are handpicked at the end of summer. Using the method of beating with a pole pistachios fall from the tree in a net and are collected for processing. The first stage is the peeling process where the pericarp (husk) is removed and the pistachios remain in shell (their wooden endocarp). Then pistachios are placed in a drier for 10-12 hours at 60o C. The hot air blown removes humidity without altering the taste or the nutritional value of the pistachios. Finally after sorting, all closed pistachios are removed. To prepare for roasting pistachios are watered with lemon and salt and are specially roasted in small batches.