Black Corinthian Currant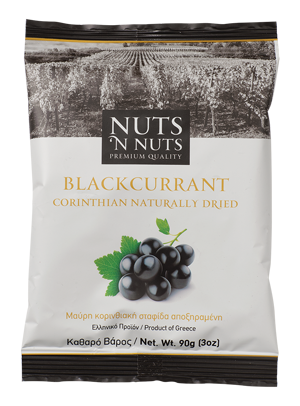 Also known as the "Black Gold" the Corinthian currant (Vitis Vinifera) is a variety of small, sweet, seedless grape named after the capital of the Corinthian province in Peloponnesus in Greece. The systematic cultivation of black currants started in the mid 14th century first in Northwestern Peloponnese (Corinthia, Ilia, Achaia) and later in the early 16th century it spread to the islands of the Ionian Sea (Kefalonia, Zakynthos).
The Corinthian stafidampelos yielding the currants is a self-sown Peloponnesian grapevine variety which has been around since antiquity. Black Corinth currants is an ancient Greek grape variety prized for its super sweet small, pearl-like, grapes are of a dark, almost black, color and intensely flavored fruit.
Our blackcurrants are naturally dried in the sun. They can be consumed as such, as a healthy snack or in combination with other dried fruits and nuts. They can also be used in cooking, confectionery, salads, juices and breakfast. They are a significant source of vitamin C and have natural antioxidant values.
Together with pistachios they are the new super-foods. All our products are handpicked and handled with special care to maintain their quality and taste.