Pistachio Brigadeiros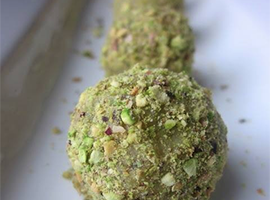 Brigadeiros are Brazilian candies that owe their melt-in-your-mouth texture to sweetened condensed milk, cooked down until it's thick and fudge-like.
- 1 can sweetened condensed milk
- 2/3 cup heavy cream
- 1/2 cup plus 2 Tbs. finely ground pistachios
- 2 tsp. light corn syrup
- 1 tsp. unsalted butter
Put the condensed milk, cream, 6 Tbs. ground pistachios, corn syrup, and butter in a 3-quart heavy-duty saucepan and bring to a boil over medium heat. Turn the heat to medium low, and cook, whisking constantly, until the mixture thickens, about 12 minutes. . Let the mixture cool to room temperature and then refrigerate until very firm, 3 to 4 hours. Put the remaining 1/4 cup ground pistachios in a bowl. Scoop the mixture into balls. Drop each ball into the pistachios as you finish rolling it to make a crust!
Why include pistachios to your diet?
they contain large quantities of antioxidants
vitamin B6, vitamin E, manganese and magnesium
rich source of fiber
one of the best sources of protein
have fewer calories and fat than other nuts contain plant sterols more than any other dry fruit