Carrot Soup with yogurt and spiced pistachios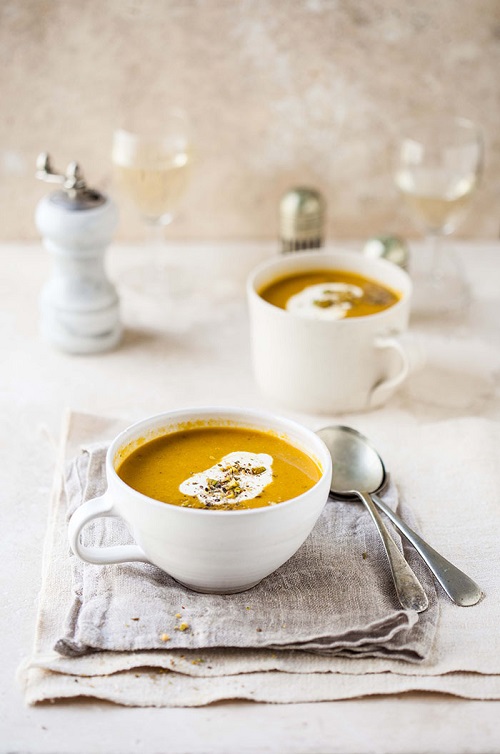 1 tbsp sesame seeds
5g (1 tbsp) pistachios
1 tsp fennel seeds
1 tsp cumin seeds
1 tsp coriander seeds
30ml (2 tbsp) olive oil
1 onion
500g (1lb) carrots
1 medium potato
1 litre (1¾pt) vegetable stock
1 tbsp lemon juice
100ml (3½fl oz) plain yogurt
In a small frying pan, on a low heat, toast the sesame seeds and pistachios until golden, about 5 minutes. Set aside. In the same pan, toast the spices for 1 minute, then grind in a pestle and mortar or spice mill. Reserve 1 heaped teaspoon and place the rest in a small bowl. Roughly grind the sesame seeds and pistachios and add to the spices in the bowl. To make the soup, heat the olive oil in a medium saucepan. Add the onion, carrot and potato. Season well and cook for 10 minutes. Add the heaped teaspoon of spices and pour the stock over. Bring to a boil, then simmer for 15 minutes. Purée in a food processor or blender. Add the lemon juice and taste for seasoning. Pour into bowls, then drizzle over the yogurt, and sprinkle on the nut/spice mixture.
Source: realfood.tesco.com
Why include pistachios to your diet?
they contain large quantities of antioxidants
vitamin B6, vitamin E, manganese and magnesium
rich source of fiber
one of the best sources of protein
have fewer calories and fat than other nuts contain plant sterols more than any other dry fruit